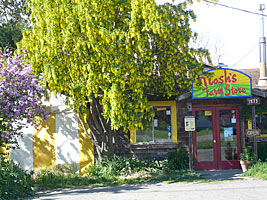 In 2002 Nash's Organic Produce rented a small building adjacent to the Dungeness Field and the packing shed and opened a small produce store. In reality, it was a small farmers market, featuring products from Nash's farm, other local farms, and local artisans. Gradually, store manager Cheryl Sarno began carrying Nash's grains and pork, as well as ordering items from Organically Grown Company, a distributor in Portland, so that customers could shop for what they needed year round. As the years progressed, it became apparent that eventually Nash's should expand to a full-grocery store to meet the needs of the community of Dungeness and other area consumers who want organic, sustainably-produced food and other products.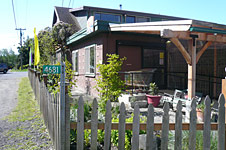 In 2007, a nearby property, called "The Corner," went up for sale. The Corner began its life as a dairy and creamery 100 years before. It was known as the Dungeness Creamery and then as the Glendale Creamery until 1951 when it was purchased by Bob and Bettie Duncan. They turned it into the Dungeness Tavern in 1959 and added a living space above where they raised their family. They ran the tavern until 1997 when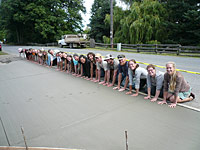 the property was purchased by Kenneth Nordquist. Kenneth and his wife made Victorian dolls, with cloth bodies and porcelain, hand-painted heads, and they sold them online. When they retired in 2007, Nash's Organic Produce realized the buildings had everything they needed for a full grocery store.
Pulling together several key investors, Nash Huber, Patty McManus-Huber, and Kia Armstrong purchased the property. It has two large buildings (over 3,500 sq. ft. each) and several smaller ones. It took three years to raise the money to do the renovations, but in September 2011, they opened Nash's Farm Store for business!