Kia Armstrong, Farm Store Manager
Originally from Southern Maine, Kia Armstrong road-tripped her way out to the Olympic Peninsula in 2002, and was hired to work on the harvest crew at the farm in 2003. Today, Kia helps manage sales, the packing shed, farmers markets and collaborates on farm-wide promotion and outreach projects.
During her time at the farm, Kia's passion for sustainable agriculture and social justice issues has fueled her work with local farm-to-cafeteria programs and GMO awareness. She has also served on several farmers markets boards and on the board of Tilth Producers of Washington.
"One of the reasons I made Dungeness my home is its combination of local food and amazing people," says Kia. An avid cook, Kia loves feeding her community and educating about how fun and delicious local food can be. She also accompanies her husband, guitar player Cort Armstrong, on upright bass. Their bands-Cort & Kia Armstrong, Blue Rooster and Farmstrong-play old-time country blues at festivals and venues across the Puget Sound, and they have recorded several albums together. Kia and Cort became parents in February 2013 when their son Spencer Donald Armstrong was born, and daughter Norah Josephine was born in September 2015.
Analeigh Otis, Produce Manager
Analeigh Otis, or Anna, was born in Port Angeles, WA, and raised in Joyce. She also spent five years in the Tacoma/Puyallup area. She is the mother of a five-year-old boy and also owns two Catahoula pitbulls.

In addition to working in the produce department at Nash's Farm Store, Anna is going to college to get her Associate of Science, and hoping to eventually get a degree in Zoology, and also supervises TLC Pet Pros in Port Angeles. In her free time, she enjoys yoga and hanging out with her family.
Jessica Swenson, Grocery Buyer

Our new Grocery Buyer is Jessica Swenson who hails from Southern California. Born and raised in Torrance, she attended El Camino Community College and started her "foodie" career as a waitress at the Redondo Beach Cafe. "I loved waiting tables," she says. "I'm such a people person and I enjoy all the interaction. It was a fun job." She also got married and had three children.

At one point, she joined a Roller Derby team. "Also lots of fun," she laughs, "but after a couple of months I sprained my ankle and even after it healed, I knew I could not be on my feet as much as a waitress needs to be. So I started working for a Hawaii-based company called Noh Foods."

Noh Foods specialized in seasoning packets, mixes, BBQ sauces and hot sauces. Jessica was an administrative assistant, but soon was a manager and doing lots of ordering. After three years, she changed to Unified Grocers and was their buyer for grocery, deli and frozen foods.

Once their kids finished high school, Jessica and her husband felt they really needed a change of pace. Her brother lives in Port Angeles and after visiting him there, they realized the North Olympic Peninsula was what they were looking for. "Quality over quantity was what we were seeking," she remarks. "We found it in spades here."

Jessica started at Nash's Farm Store at the beginning of January 2017. When she's not busy there, she loves to explore the Peninsula. "Can't wait for warmer weather to get into the Olympic Mountains!"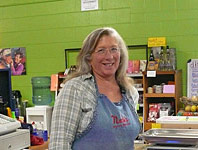 Susan Baker
Susan Baker worked as a CSA program exchanger in 2011 and learned that the Farm Store was hiring. She applied and has been working there since January of 2012. Since 2014, she has helped Sid Maroney manage the CSA program.
She has a BS in Horticulture from University of Maryland and has owned interior landscaping and design businesses. She's been on the Olympic Peninsula since 1987, and in Sequim since 2003.
She likes working at the Store because she can meet people who share her values. "We all seem to share a vision of healthy living and a healthy world. Part of that is supporting local, organic food production. I also enjoy being part of the farm family and helping the farm and Farm Store grow, evolve and succeed into the future."
The Store does have its challenges, however. "Remembering customers' names!" she laughs. "But I am interested in learning about the logistics of organic farming on a large scale, having been a life-long backyard gardener and having specialized in interior landscaping with my career."
Outside of her work at the Store, Susan still loves to garden and cook. She and husband Scott enjoy traveling and have visited all 50 states. Susan is an avid reader, too. "I'm usually reading two or three books at a time. Lately, I've been reading about industrial agriculture and the problems associated with it." Her interest in environmental issues and her new connection to how food is grown has led her to become active in the local GMO Awareness Group. "The issue of our food being genetically engineered in a lab by big pharmaceutical and chemical companies should concern everyone. I may sound like I'm just a hippie at heart, but I believe strongly in the healing power of nature, physically and spiritually. We all need to protect the earth however we can."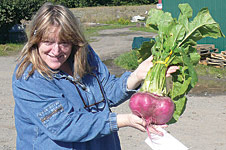 Margie Diffner
Margie Diffner started working at Nash's Farm Store in 2009 and has become an integral part of that operation. She is head bookkeeper and is also in charge of the mercantile department.
Margie is a talented photographer and took it upon herself to create and organize an electronic photo archive for Nash's Organic Produce. You may have seen some of her photos on this site.
Born and raised in Western Washington, Margie has lived here most of her life. She has always liked to bake and cook (and the rest of the crew really appreciates her for this!), but it wasn't until she became acquainted with Teri Crockett and a couple of others on Nash's staff that she became interested in gardening.
"They inspired me," Margie says. "I took a typical downtown Sequim gravel yard and turned it into a garden." Margie can now boast roof-tall sunflowers, as well as her own tasty tomatoes, purple beans and squash plants. She even took juniper branches and wove them into attractive fences to surround her garden.
Happy Fitzgerald

Happy Fitzgerald was born in Daly City, in the Bay Area. "Yes, Happy is my given name," he laughs. "It's on my birth certificate, and it caused a lot of teasing in school. But I try to live it every day, now that I am an adult."

After high school, Happy moved to San Jose, CA, and worked for the county coroner's office for 5 years. It was a good job, but after awhile, it became very hard to do. Then he met a woman from the state of Washington and followed her back to the Evergreen State. "I fell in love with her and the area," he remembers. "It's so beautiful here."

They were married in 2006 and now have two children, Jazmin (age 9) and Jayden (age 6). Happy got a job at Wal-Mart and worked at both the Port Angeles and Sequim stores for a total of about 5 years. When they became "super centers" with food, he transferred to the produce department.

For the last two years, Happy has been a stay-at-home dad, enjoying every second with his two kids. But when Jayden started school, he decided to return to work. "The day I decided it was time to get back into the work force, I saw the ad for a produce clerk at Nash's!"

Outside of work, Happy likes to bowl and is part of the Port Angeles Bowling League. He also enjoys fishing and camping with his family and the Peninsula is the perfect place to do it.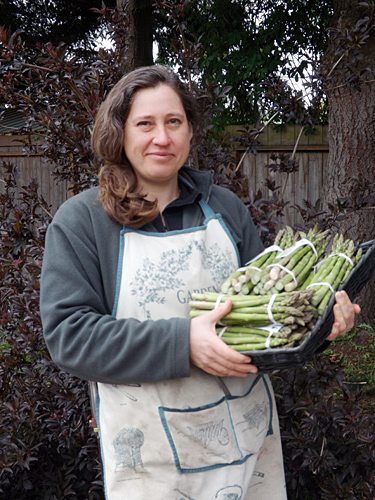 Melissa Klein
After selling cards of her artwork through the Farm Store for several years and having a positive experience both as a customer and as a vendor, Melissa Klein thought it would be great to work at the store. She joined the Produce Team in the fall of 2014.
Melissa moved to Sequim in 2003, married, and fulfilled a lifelong dream by adopting a pregnant draft horse mare as a rescue from the drug industry. Horse ownership prompted her to take an entirely new direction in her art work; more nature-based and spirit inspired. A proud graduate of the Artist Trust's Edge program (2006), and the Uplevel Gold Academy with Christine Kane (2013, 2014), Melissa also teaches Commercial Art at the North Olympic Peninsula Skills Center and Lincoln High School in Port Angeles.
Klein is a local artist and art teacher, and her work is featured in books, magazines, and murals. Clients include the EPA, the North Olympic Library System, Kauai Children's Discovery Museum, Fairchild Tropical Garden, University of Pennsylvania and North American Publishing. She works in a variety of mediums; including a unique style of crackle-milk paint layered with mixed media that she created. Melissa is currently working on a series of drawings to advocate for the removal of the Snake River dams and preserve salmon habitat. See some of her work at melissaklein.com.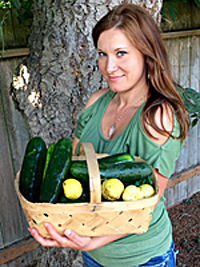 Lindsey Lowthian
Lindsey Lowthian grew up in Portland, OR, and moved to Sequim in 2013 to live closer to her father and brother. She studied Pharmacology for 2 years as a Pharmacy Technician student, but after graduating from college, she wasn't sure she wanted to pursue that career. She has a passion and interest in herbal medicine and natural healing, and believes that eating certain organic foods can help heal the body. Lindsey started working at Nash's in 2014. "I really like how tight-knit the community is," she says, "and how everybody is close like family here on the Farm. It feels like home to me."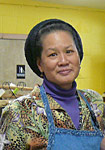 Mary Wong, Customer Service
Since mid-February 2012, Mary Wong has worked at Nash's Farm Store. Mary was born to immigrant Chinese parents in Boca Raton, FL, and has also lived in Fargo, ND, where she worked as a nutritionist and herbalist. "I tried to help people with their health issues without charging them," says Mary, "but I also needed a paying job. So I started my own catering business. I also helped to start a food co-op at the local university."
Mary came to the Sequim area because her sister lived here, and while exploring Dungeness, she stopped by the farm store and learned that Cheryl Sarno was leaving as manager. She applied right away. "It started with a bang, and it's been fireworks ever since," Mary laughs.
Since food is central to the culture of China, its quality is of primary importance to Mary. "That's one of the things I love about working at Nash's," she explains. "I love being close to the source of my food."
Mary also enjoys working with others who share the same passion about taking care of their health and the health of the planet. "That's the center of organic farming," she says. There are many challenges to running Nash's Farm Store, but she views them as opportunities to grow and learn. "I get excited every day to come to work."