Kia Armstrong, Farm Store Manager
Originally from Southern Maine, Kia Armstrong road-tripped her way out to the Olympic Peninsula in 2002, and was hired to work on the harvest crew at the farm in 2003. Today, Kia helps manage sales, the packing shed, farmers markets and collaborates on farm-wide promotion and outreach projects.
During her time at the farm, Kia's passion for sustainable agriculture and social justice issues has fueled her work with local farm-to-cafeteria programs and GMO awareness. She has also served on several farmers markets boards and on the board of Tilth Producers of Washington.
"One of the reasons I made Dungeness my home is its combination of local food and amazing people," says Kia. An avid cook, Kia loves feeding her community and educating about how fun and delicious local food can be. She also accompanies her husband, guitar player Cort Armstrong, on upright bass. Their bands-Cort & Kia Armstrong, Blue Rooster and Farmstrong-play old-time country blues at festivals and venues across the Puget Sound, and they have recorded several albums together. Kia and Cort became parents in February 2013 when their son Spencer Donald Armstrong was born, and daughter Norah Josephine was born in September 2015.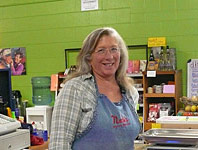 Susan Baker
Susan Baker worked as a CSA program exchanger in 2011 and learned that the Farm Store was hiring. She applied and has been working there since January of 2012. Since 2014, she has helped Sid Maroney manage the CSA program.
She has a BS in Horticulture from University of Maryland and has owned interior landscaping and design businesses. She's been on the Olympic Peninsula since 1987, and in Sequim since 2003.
She likes working at the Store because she can meet people who share her values. "We all seem to share a vision of healthy living and a healthy world. Part of that is supporting local, organic food production. I also enjoy being part of the farm family and helping the farm and Farm Store grow, evolve and succeed into the future."
The Store does have its challenges, however. "Remembering customers' names!" she laughs. "But I am interested in learning about the logistics of organic farming on a large scale, having been a life-long backyard gardener and having specialized in interior landscaping with my career."
Outside of her work at the Store, Susan still loves to garden and cook. She and husband Scott enjoy traveling and have visited all 50 states. Susan is an avid reader, too. "I'm usually reading two or three books at a time. Lately, I've been reading about industrial agriculture and the problems associated with it." Her interest in environmental issues and her new connection to how food is grown has led her to become active in the local GMO Awareness Group. "The issue of our food being genetically engineered in a lab by big pharmaceutical and chemical companies should concern everyone. I may sound like I'm just a hippie at heart, but I believe strongly in the healing power of nature, physically and spiritually. We all need to protect the earth however we can."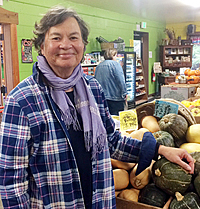 Lori Brown
Lori Brown was born and raised in San Diego, CA. "We lived one block away from the beach, so I was a surfer girl," she laughs. "I wasn't ever any good, though."
Lori graduated from San Diego State University, with a degree in biology. While she was in college, she had a part-time job at the San Diego Zoo helping raise baby chimps, orangutans, and gorillas. One day, Jane Goodall, who was on a speaking tour, visited the Zoo and recommended that Lori apply for a job at her Gombe Stream Research Centre in Tanzania. "I jumped at the chance," Lori says, "and for the next two years I went out every day, rain or shine, into the highland forests following the chimps and documenting their behavior. There were about 40 in the troupe and they were all named, each being definitely a distinct personality. We did our very best not to interpret their behaviors, but just record them as we saw them."
After her time at Gombe, Lori worked for three years in West Africa, doing chimpanzee surveys and assisting with the development of a national park.
Upon her return to the US, Lori worked for wildlife conservation groups in Washington DC, and she wrote three nonfiction children's books about chimpanzees. She also married and then she and her husband started an organic vegetable and flower farm in neighboring Maryland. "We had about 17 acres, with high tunnels, greenhouses, and lots of row covers. We sold at city farmers markets and had a CSA program. We did it for 20 years."
Unfortunately, Lori's husband passed on, and she had to sell the farm and look for somewhere to live. She had a close friend in Sequim and she also missed the west coast, so she moved here. By our good luck, she saw our job posting on Nash's website and applied in September 2017. We are so glad she is here, sharing her knowledge about organic produce and her fascinating life.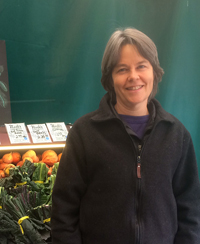 Deirdre
We have been so lucky to hire some wonderful new produce people recently, and Deirdre is certainly one of them. She was born in Rockville, MD, but her family decided to move out west closer to her paternal grandparents. She was 3 years of age when they landed in Santa Barbara, CA.
She attended elementary, junior and high school there, then began her higher education at Santa Barbara City College studying math and physics. She went on to study and certify as an EMT and later attended a newly established Emergency Medical Services Academy in Santa Maria where she graduated as her class's valedictorian.
Back in Santa Barbara, she was employed in the local emergency department for two years before moving to San Francisco to work in one of the nation's most prestigious university hospitals.
After a total of twelve years of employment in the western medical system, she realized she was dissatisfied with its limitations and began seeking other, non-medical vocations.
"My thinking about health sort of evolved," she recalls as she explains her shift toward the idea of food as the wellspring of health. Deirdre has been a practicing vegan, eating organically since the mid 1980's.
In mid-2017, she moved with her family to Sequim. They like the area very much and have plans to develop a small plot of land growing their food organically.
Deirdre loves to make delicious vegan meals for family and friends. She takes abstract photographs in her spare time, loves jazz and classical music, is a big movie buff citing "The Sound of Music" as her very first film at age 2 and is an avid cyclist. "I'm really looking forward to cycling the trails this summer." She will find lots of great riding here on the North Olympic Peninsula!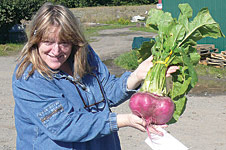 Margie Diffner
Margie Diffner started working at Nash's Farm Store in 2009 and has become an integral part of that operation. She is head bookkeeper and is also in charge of the mercantile department.
Margie is a talented photographer and took it upon herself to create and organize an electronic photo archive for Nash's Organic Produce. You may have seen some of her photos on this site.
Born and raised in Western Washington, Margie has lived here most of her life. She has always liked to bake and cook (and the rest of the crew really appreciates her for this!), but it wasn't until she became acquainted with Teri Crockett and a couple of others on Nash's staff that she became interested in gardening.
"They inspired me," Margie says. "I took a typical downtown Sequim gravel yard and turned it into a garden." Margie can now boast roof-tall sunflowers, as well as her own tasty tomatoes, purple beans and squash plants. She even took juniper branches and wove them into attractive fences to surround her garden.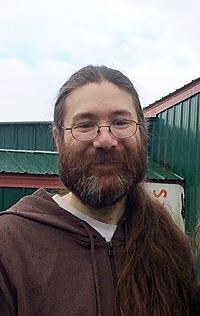 Ken Kaieda
Ken Kaieda was born in Southern California, but lived in Sequim from the time he was seven years old. He graduated from Sequim High School in 1995, then went to live in Bellingham where he worked at various jobs until 2016 when he returned to Sequim. He started working at Nash's Farm Store in October 2016.
In Bellingham, Ken got certificates in Accounting from Whatcom Community College, and has put them to work doing some data entry and bookkeeping chores for the Store. He is in charge of keeping the Store and Community Barn clean, and cleaning the flour mill and oil press after every use. He is also the go-to person for minor maintenance jobs at the Farm Store and the packing shed.
In his spare time, Ken likes to read and play video games. He also likes to get around Sequim and Dungeness on his bike.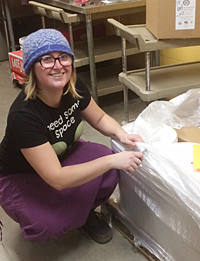 Breanna Krumpe
Breanna Krumpe is a Sequim native and graduate of Sequim High School. She attended Whitworth University in Spokane, Washington, graduating in 2013 with a degree in music. She is a soprano who trained in opera and lieder, and she also plays viola and piano.
After graduation, Bre, as she is known to her friends, lived in Portland for a couple of years. "I enjoyed the city," she recalls, "but I found that I missed home too much. I would come back to Sequim and just be so happy to be home." She moved back and started work at Nash's on the harvest and packing crews.
Portland did one thing for her—she became aware of the "farm-to-table" movement that is so prevalent there, and came away with a desire to be self-sufficient on her own piece of land. Instead of trying to acquire land, Bre decided to work on a farm for awhile to see if she could handle the work load, and to gain an understanding of how things grow. "On the farm, I worked with amazing people who have lots of knowledge about growing food. They were very generous with that knowledge."
For several years, Bree has been one of our prime marketeers at the U-District and Ballard Farmers Markets. She recently changed her job from the farm to the Farm Store in 2017. She is now in charge of the grocery department, including ordering, receiving, and stocking shelves. She is responsible for displays and new products. Her understanding of Nash's farm gives her work a greater depth and we are delighted she is at the Store.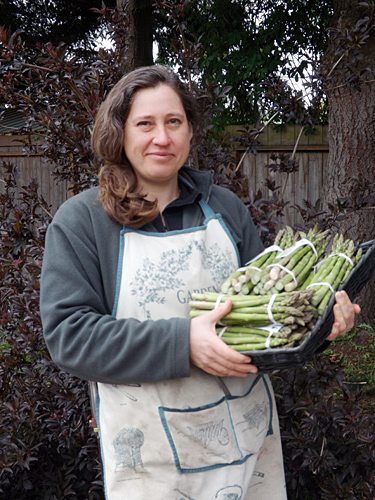 Melissa Klein
After selling cards of her artwork through the Farm Store for several years and having a positive experience both as a customer and as a vendor, Melissa Klein thought it would be great to work at the store. She started in 2014 in the produce department, but today she is responsible for all of our beautiful signs. She has actually created a style that Nash's can call its own!
Melissa moved to Sequim in 2003 and fulfilled a lifelong dream by adopting a pregnant draft horse mare as a rescue from the drug industry. Horse ownership prompted her to take an entirely new direction in her art work; more nature-based and spirit inspired. She is a proud graduate of the Artist Trust's Edge program (2006), and the Uplevel Gold Academy with Christine Kane (2013, 2014).
Klein is a local artist and art teacher, and her work is featured in books, magazines, and murals. Clients include the EPA, the North Olympic Library System, Kauai Children's Discovery Museum, Fairchild Tropical Garden, University of Pennsylvania and North American Publishing. She works in a variety of mediums; including a unique style of crackle-milk paint layered with mixed media that she created. Melissa is currently working on a series of drawings to advocate for the removal of the Snake River dams and preserve salmon habitat. See some of her work at melissaklein.com.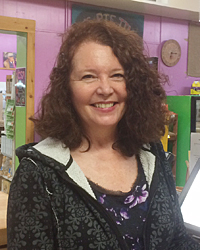 Eileen Meyer
Eileen Meyer was born in Clovis, California, and lived both there and in Wisconsin during her youth. She graduated from high school in Barstow, CA. "Barstow is way out in the middle of nowhere," she laughs, "but my grandparents met each other there. She was a Harvey Girl, and he worked on the railroad. My Mom's side of the family still lives there."
Eileen's first job was for the crew of the film Hair in 1977. "I typed their budget on a typewriter!" she remembers.
Then she moved to San Diego where she lived for 17 years. She worked as an executive assistant for the defense industry by day and sang rock 'n roll with a band in clubs at night. "It's a fun lifestyle for someone young, but it's hard to keep up that kind of pace."
In 2000 she moved to Santa Fe, NM, and started writing her own music. "I created three CDs. My music is spiritually inspired and introspective, and Santa Fe was a wonderful place for that kind of exploration." She also owned her own video production company there.
In 2017, she came to Sequim to help family members move and fell in love with Sequim. She started working at Nash's Farm Store as a cashier in September 2017. She brings a wonderful energy and serenity to her work and we are very glad she is part of our farm community.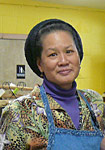 Mary Wong, Customer Service
Since mid-February 2012, Mary Wong has worked at Nash's Farm Store. Mary was born to immigrant Chinese parents in Boca Raton, FL, and has also lived in Fargo, ND, where she worked as a nutritionist and herbalist. "I tried to help people with their health issues without charging them," says Mary, "but I also needed a paying job. So I started my own catering business. I also helped to start a food co-op at the local university."
Mary came to the Sequim area because her sister lived here, and while exploring Dungeness, she stopped by the farm store and learned that Cheryl Sarno was leaving as manager. She applied right away. "It started with a bang, and it's been fireworks ever since," Mary laughs.
Since food is central to the culture of China, its quality is of primary importance to Mary. "That's one of the things I love about working at Nash's," she explains. "I love being close to the source of my food."
Mary also enjoys working with others who share the same passion about taking care of their health and the health of the planet. "That's the center of organic farming," she says. There are many challenges to running Nash's Farm Store, but she views them as opportunities to grow and learn. "I get excited every day to come to work."