Nash Huber was born on a family farm in south central Illinois in 1941, near the town of Hillsboro. His grandparents on both sides of his family farmed nearby, and Nash started working with dairy cows, pigs, tractors and bees at a young age. His maternal grandfather, Albert Crites, grew peaches, apples, sweet corn, and garden veggies, as well as raising bees for honey, chickens for eggs, hay
for draft horses, and 5-10 dairy cows for milk and cream. His paternal grandfather, Albert Huber, raised hogs, corn, grain, and dairy cows.
Nash studied to be a chemist at Eastern Illinois University. After graduating, he went to work for A.E. Staley as a research
chemist and became part of a team that analyzed and developed new methods to utilize corn starch. He left after five years because he "didn't want to live in a lab."
In the summer of 1968, Nash left the Midwest and traveled to the west coast, looking for a place that had mountains, ocean, and a good climate. When he arrived in Sequim, Washington, he knew he had found his place.

In 1979 Nash rented a couple of vacant lots and started a small organic produce operation in Dungeness. He also kept some bees and joined up with a couple of other local farmers to found the Port Angeles Farmers Market. His operation grew to several acres, a few second-hand farm implements, more beehives, and a couple of old trucks that he could fix himself. He owned no land.
At the time, no one in the area had any confidence in the future of local agriculture. Sequim was famous for the quality of its dairies, but from 1950 on, they had to get big or get out, as milk became a commodity, and the farmers couldn't compete on a national scale. The region's 480 family dairies dwindled to only a handful by the 1970s. Looking for a larger tax base, Clallam County encouraged farmers to short-plat their farms and sell for residential development.
Nash remembers "feeling good about farming again," and decided to make a go of it. He partnered with a friend who had an apple orchard, and they sold produce at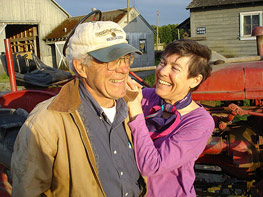 the Saturday farmers markets in Port Hadlock and Port Angeles. Nash leased larger and larger pieces of land and acquired more second-hand farm equipment as farmers on the North Olympic Peninsula pulled out of agriculture.
Nash married Patty McManus in 1994. Patty's mother, Dorothy, passed away in 1996 leaving some funds to her daughter. That year, Nash and Patty used those funds to purchase 10 acres of their own in Dungeness and build a packing shed. They also established the Nash's Best! brand of carrots. Every year
since, there have been new products, new acreage under cultivation, and new markets.
The team at Nash's is farming about 600 acres: 75 acres of vegetables, berries and orchard; 250 acres of grain; 20 acres of organic seed; 50 acres devoted to pigs, poultry, and compost; and the rest is fallow or in hay. The farm employs about 35 people, making the it one of the larger private-sector employers in Sequim; and sells at 7 local farmers markets and wholesale to PCC Natural Markets (Seattle), Organically Grown Company (Portland), and Discovery Organics (Victoria, B.C.).
Over the years, Nash's Organic Produce has won recognition and awards from many local organizations on the Olympic Peninsula. It has also won four prominent state and national awards:
We are very grateful for these honors and strive to continue the work that made them possible.