Nash's grains and flours are unique. They were carefully selected and grown in the Sequim-Dungeness Valley by Nash's team at Delta Farm, with support from Washington State University. They are ground into flour at the certified organic mill that you can see next to the Farm Store. It is very unusual for grain to be grown and ground at the same location, especially an organic, completely NON-GMO grain. We think you will enjoy its taste and texture in whatever you make with it.
The flours are ground from organic WHOLE grain,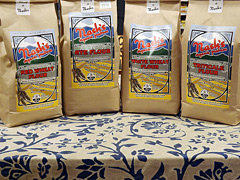 ensuring that you get all the goodness and nourishment nature intended. Generally speaking, we use the hard red wheat flour for breads, noodles, and crackers. The soft white wheat flour is for pastries. However, bakers here at the farm have used both flours for either purpose, and we love the results. Triticale, a cross between red wheat and rye, makes fantastic cookies with a nutty flavor. Our rye flour is basically for breads, but we find that it does not have an overwhelming rye flavor.
The New Grain Mill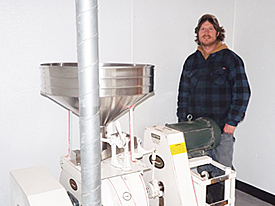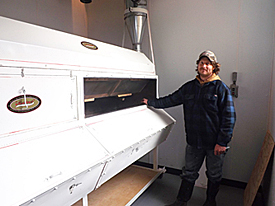 In 2014, Nash's acquired a new Meadows grain mill (left) and sifter (right, shown with grain supervisor Sam McCullough) from the Bell Street Bakery that closed in Sequim in 2013. A new section of our certified mill room was constructed and the equipment was moved there. The mill is designed to grind grain or corn into flour, meal or grits. This, plus the ability to finely sift the flours, has given the farm a great deal of flexibility in our grain product line. It has also increased the quality, efficiency and speed in our milling process.
All of our organically-grown whole grains and whole grain flours are available at Nash's Farm Store or Farmers Markets for the home miller. Contact the Sales Desk at the Packing Shed for more information about bulk prices on grain and flour pre- orders, 360-681-7458, sales@nashsorganicproduce.com.
Purchase Nash's whole grains and Nash's flours online!