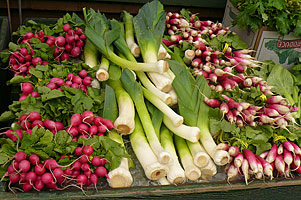 Nash's Organic Produce strives to create an alternative food system to the one that American industrial agriculture has put before the American public. We believe that REAL food is what comes out of healthy soil—food that nourishes us, not just fills us up. It is unprocessed and contains NO herbicides, pesticides, hormones, antibiotics, preservatives, artificial ingredients, or foreign genetic material.
Whole, fresh and unadulterated foods do two things: they provide all the nutrients that nature put into the food—not just as a sum of nutrients, but even more, as a synergy of nutrients that work together because they naturally interact within the living plant or animal. When we eat these foods, the total health benefit to us is much greater than the sum of the parts.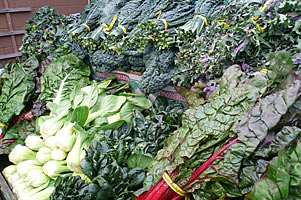 But to access real food, many people have to learn to cook, as their parents and grandparents did before them. We are too accustomed to a "ready-to-eat" meal that has been prepared with enough sugar, salt, and fats to disguise the fact that it was created with the corporate processor or distributor in mind, not the health of the consumer.
We all need to get back into the kitchen, cooking up delicious, fresh, organic produce every day. Here is some information to help you on your way:
| | |
| --- | --- |
| * | A Seasonal Guide to let you know when produce is coming out of the fields |
| * | Our Recipe Blog. Try any recipe you like, and if you have one of your own to share, please send it our way! |
| * | Vegetable Storage Tips |
| * | The Featured Veggie. We update this page almost every week, with cooking suggestions, health benefits, and interesting history of the veggies coming off Nash's farm. |