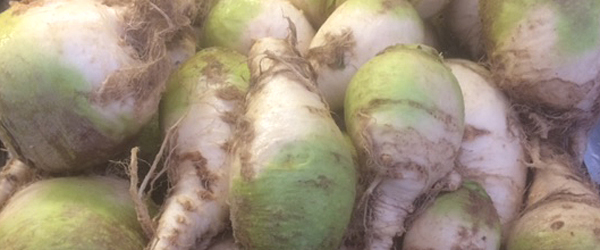 Nash's Savoy Cabbage Raab
Raabs, the tender spring shoots of brassicae plants that would create seed heads if we allowed the growth to continue, pack lots of vitamins and minerals into the florets and young leaves. This is where they are directing their life force, to produce the next generation of plants. Consequently, it's a nutrition boon for us, because they have significantly more vitamins and minerals than the crop itself.

Savoy, in the vegetable world, means a crinkly leaf. Savoy cabbage has marvelous curly and crinkly leaves, even in the raab form. This makes it particularly good to cook with meats, because the juices from the meats (especially pork) will collect in the crinkles and add even more deliciousness to the dish. Add Savoy cabbage raab to any saute for flavor and nutrition, but we really recommend sautéing it in broth or cooking it with the meat itself, as in the recipe below.


Cabbage Raab and Pork

3-4 slices bacon or pork belly, cut into small pieces
4 cloves garlic, chopped
2 bunches cabbage raab, washed and ends trimmed
1 Tbsp. olive oil
1/8 tsp. cayenne (optional)

Saute bacon or pork belly with garlic in a frying pan until the bacon starts to brown. Remove and set aside.

Cut raab (stalk, leaves, florets and all) into one-inch pieces. Add olive oil to the pork drippings and saute raab until it starts to wilt. Cover and let it cook for a few minutes more until tender.

Remove from heat and stir in pork and garlic. Add salt and pepper to taste and a little cayenne if you like a bit of a kick. This tastes great on a bed of brown rice or on cooked whole grain, like triticale or rye berries.