Nash's Farm Store is proud to support local farmers, value-added producers and artists by providing a venue for their products and creations at Nash's Farm Store. Periodically, we will introduce you to some of the innovative and dedicated local farmers and artisans that make the North Olympic Peninsula a richer and more beautiful place to live.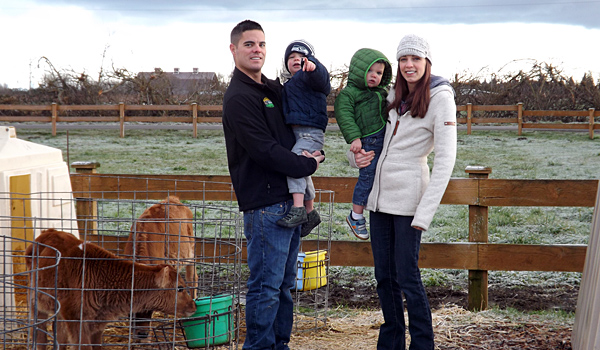 Dungeness Valley Creamery
Sequim used to have hundreds of dairies. Today there are only two and the Dungeness Valley Creamery is one of them. It was founded by Jeff and Debbie
Brown in 1986 and today their daughter Sarah and her husband Ryan McCarthey (pictured above with sons Tyler and Wade) run the operation and are raising their
two boys in the original farmhouse in Dungeness.
It was Sarah who, after graduating from Washington State University (WSU)
Pullman, encouraged her parents to leave the dairy commodity industry, where the processor or dairy cooperative set the price, and focus on a niche market—raw milk sold locally. Most milk produced today undergoes some form of processing, like pasteurization and homogenization before it reaches the consumer. Raw milk is
taken straight from pastured cows, rapidly cooled to somewhere around 36-38 degrees F, and bottled. This is an anathema to some and a blessing to others, because the raw milk is nutrient-rich and those nutrients are readily accessible to most people.
Dungeness Valley Creamery milk is not pasteurized. While proponents of raw milk believe that it is better for you than pasteurized milk, there are potential health hazards associated with it, and a dairy that sells raw milk in the state of Washington must be licensed and regularly inspected. According to the McCartheys, the cleanliness of their facilities is most important. Their quality standards are much stricter than conventional dairies and processors. Everything they do is geared towards cleanliness.
But by going raw, the family has been able to keep farming without expanding their herd, which is important because the cows are out on pasture for the majority of
the year, and during the winter they are fed hay and grain. More cows would require more land than the family owns. The difference between their milk and conventional milk is directly experienced through taste, but also by the fact that it is a whole
food with all the nutrients intact. Check out the
Dungeness Valley Creamery website
for testimonials and more information about how they raise their animals and handle
the milk.

Sequim Prairie Star Worm Tea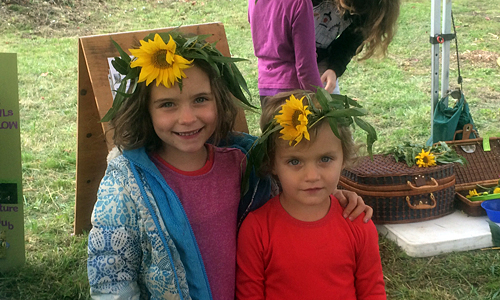 Sequim residents Harold and Virginia Vadset (above) have been making worm tea, which can be used as a soil amendment or a foliar feed, since they arrived 14 years ago. They base their product on the research of Dr. Clive Edwards of Ohio State University, who increased plant growth by 30% using vermicompost (worm castings), and they sell their product on the Peninsula and in the Seattle area.
Worm Tea is far better for your plants and your soil than a chemical fertilizer. The OSU research showed increases in both plant size and yield, due to the interaction of the microbes in the tea with the soil microbes and protozoa, soil particles and the roots of the plant itself. The plants are healthier due to the symbiotic relationship between the plant and the microbes in the root zone, making available all of the food and nutrients the plant needs to thrive.

"We have a terrific garden," says Virginia, "thanks to this tea. We want others to enjoy success growing their own vegetables, too."

Hear Harold and Virginia talk about how their worm tea works on Wednesday, March 16, at 4:30 pm, at the Farm Store.