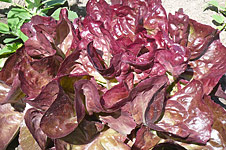 Nash Huber started his business by growing vegetables and direct marketing them to his local community. Although the farm has become much more diverse, produce is still the major focus.
Every year, the team at Nash's grows about 70 acres of row crop veggies. The farm's Production Managers work together to implement the production plan, which includes everything from field preparation and irrigation, to planting, cultivation and harvest.
Because of the unique climate in the Sequim-Dungeness Valley, certain vegetables can be grown into the winter. Nash's is always working towards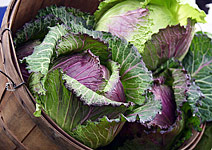 selecting varieties that can thrive in cooler weather in order to extend our growing and marketing seasons.
Root crops, like carrots, rutabagas, turnips, and parsnips, can actually get sweeter if left in the ground, providing there is no deep freeze. Winter greens will also retain sugar to act as an antifreeze in cold temperatures. Organic Seed Alliance has been an invaluable partner in the effort to develop organic varieties adapted to our local conditions.

Print-friendly seasonal guide (pdf format).
Arugula: July—November
Artichokes, Globe: May—June, August—October
Basil: June—October
Beans, fresh: July—September
Beets (4 varieties): July—March
Bok Choi: July—October
Broccoli: July—Mid-November
Brussels Sprouts: October—March
Cabbage (8 varieties): July—March
Carrots: July—March
Cauliflower: April—May, July—November
Chard (6 varieties): April—May, July—November
Cilantro: July—October
Collard Greens: September—March
Corn: September—October
Cucumbers: July—Sept
Dill: July—October
Dried Beans: Year 'round
Dried Corn: Year 'round
Fava Beans, fresh: June—July
Garlic: October—February
Gooseberries: July—August
Grains (red & white wheat, rye, triticale, oats): Year 'round
Kale (4 kinds): August—March
Leeks: August—May
Onions (4 kinds): July—November
Parsnips: November—April
Parsley (2 kinds): April—May, July—November
Peas (2 kinds): August—September
Pork: Year 'round
Potatoes (3 kinds): August—February
Radishes (2 kinds): June—November
Raspberries: July—August
Rutabagas: Nov.—March
Spinach: April—May, June—November
Strawberries: June—July
Summer Squash: July—September
Sunchokes: October—April
Turnips: November—March