Port Angeles Farmers Market
The Gateway, NW Corner of Front and Lincoln Streets, Port Angeles, Washington
Open year round, Saturday, 10 a.m. to 2 p.m.
Summer, Wednesday, 2 p.m. to 6 p.m.
Sequim Open Aire Market
Second and Cedar Streets, Sequim, Washington
May through November, Saturday, 9 a.m. to 3 p.m.
Port Townsend Farmers Market
Uptown Port Townsend, Washington
Saturday, April to December, 10 a.m. to 2 p.m.
Wednesday, June to September, 3 to 6 p.m.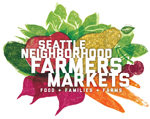 U-District Farmers Market
5031 University Way NE, Seattle, Washington
Saturday, year round, 9 a.m. to 2 p.m.
Ballard Farmers Market
Ballard Ave. NW, between Vernon Pl. NW and 22nd Ave. NW
Sunday, year round, 10 a.m. to 3 p.m.
Capitol Hill Farmers Market
Broadway Ave. and E. Pine St.
Sundays, year round, 11 am to 3:00 pm
Pike Place at the Courthouse
City Hall Plaza Market, 600 4th Ave.
Tuesdays, 10 am - 2 pm, starts May 30, 2017