In Clallam County, where Nash's Organic Produce is located, about 75% of all farmland has been lost to residential development since 1950, at a rate of about 1,100 acres per year.
The most recent U.S. Census of Agriculture reported a decline in U.S. farmland acres from about 938.3 million in 2002 to about 922.1 million in 2007, a loss of 1.7 percent.
Until to 2008, pasture and cropland brought approximately $4,000 an acre if sold to a farmer for farming, but it fetched five or six times that if sold to a developer for housing. Development prices have since declined with the recession, but developers still can make more money selling an acre of housing once than farmers can selling an acre of crops over their lifetimes.
Add to that the fact that agricultural land is most desirable for building because it tends to be flat, well-drained and generally more affordable to developers. Consequently, America is steadily converting farmland around urban centers to development because Americans want to live in low-density suburbs; farmers are willing to sell their land to finance their retirements; and the market values this acreage higher as housing than farming. If you're ready to retire, your kids don't want to continue the farming tradition, and you face a choice between selling your only asset - your farm - for $2 million or $6 million, what do you do?
In 2000, Nash Huber, Robert Caldwell, Barbara Brightman, Neil Conklin, and Simone Nichols formed a nonprofit called Friends of the Fields to combat the loss of farmland in Clallam County. To date, they have managed to protect almost 300 acres, by outright purchase and sale to another farmer or purchase of development rights, and placing a conservation easement. In this endeavor, they have been assisted by the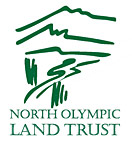 North Olympic Land Trust, with whom they merged in 2010.
Thanks to John Willits and the PCC Farmland Trust, about half the land Nash and his crew cultivate is protected from development. In spring, 2013, the North Olympic Land Trust (NOLT) of Clallam County purchased the development rights on a 10-acre parcel adjacent to the Delta Farm, reducing its value as residential property and making it affordable for Nash and Patty to purchase. Called "24-Carrot Farm," the parcel has all prime agricultural soils and has been fallow for about 15 years. The crew at Nash's is grateful to NOLT for all its hard work to raise the funds to secure 24-Carrot Farm, and we know the community will enjoy the organic carrots and other produce this rich Dungeness farm will provide for years to come.
Check out American Farmland Trust, PCC Farmland Trust and North Olympic Land Trust for more information on protecting farmland.