Nash's Farm Store features a huge selection of the freshest organic fruits and vegetables, local meats, dairy, bulk items, beer & wine, snacks,
a kids' play area, and a lending library.
95% of all products at Nash's are local and/or organic and GMO-free.
Open Monday-Saturday

in Dungeness, 10 am to 7 pm

.
CLOSED SUNDAY


Nash's Farm Store serves the community by providing
*
Organic, non-genetically engineered food
*
Local products to strengthen local agriculture
*
Support for small, socially-responsible producers
*
Resources for education and empowerment
*
Meaningful employment
*
The best customer service on the Peninsula

Hours:
Open Mon-Sat, 10 am to 7:00 pm
CLOSED SUNDAY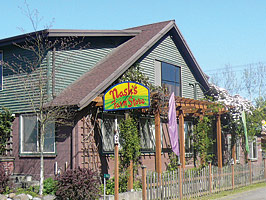 Address:
4681 Sequim-Dungeness Way
Sequim, WA 98382
From Highway 101, on the North Olympic Peninsula, take the Sequim Ave. exit and turn north. Go past the town of Sequim, for about 5 miles. Sequim Ave. becomes Sequim-Dungeness Way. You will see signs on the road indicating a right-hand turn to Nash's Farm Store.


Order bulk quantities with Azure Standard!
Kia Armstrong, Store Manager


Nash's Farm Store accepts cash, checks, EBT, credit cards (MC, VISA, Discovery and American Express), debit cards, and WIC and Senior Nutrition checks.