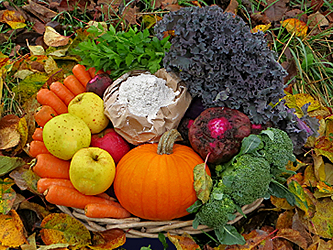 CSA stands for Community Supported Agriculture. Nash's CSA Program connects community members with the land and the people who grow their food. A financial commitment in the spring plants the seeds of support that begin the season.
In return, members receive 20 weekly boxes, from July to November, filled with the freshest vegetables, herbs, flour, grain, and fruit, all harvested at their prime, ensuring the most vitamin/nutrient-rich food possible.
Above are the items for Week 16 in the Standard box for the 2017 season.
Get a 2017 CSA for half-price! Help pack boxes on Thursday evenings.
Be a CSA Exchanger!
Check out the Puget Sound Starts Here website and their photo essay on CSA programs in the Puget Sound area, including Nash's Organic Produce!
Member benefits
*
20 weekly newsletters with recipes, health tips, and news from the farm
*
10% discount on all NASH'S products at the Farm Store and Farmers Markets (from the time of full-season purchase to the end of the program season)
*
Weekly "item swap" option for Nash's product of equal value
*

Invitations to special events, such as the Strawberry Social, held in the strawberry patch, farm tours, Barn Dances and workshops.

* Super Early Bird pricing ends March 31

* Early Bird pricing ends May 31

* Senior pricing

* EBT may be used for payment

*
Commercial delivery to Sequim or Port Angeles is available. Call 360-681-7458 to see if you are on or near the route. New pickup locations may be arranged if enough folks sign up at one spot. Know others who might be interested at your workplace, or health facility?
*
Choice of a standard (8 to 12 items) or a small (5 to 7 items) box
*
Full or partial season (can be prorated if started after season begins)
*
Work exchangers get 50% off for packing the CSA boxes 12 of the 20 weeks.
*
Your choice of pick-up sites
Sign up to receive a standard-sized Box (9 to 12 items) or a small box (5-7 items). Also chose from full or partial season, and commercial delivery or drop sites on the Olympic Peninsula.
Check out the Seasonal Chart for an approximation (weather permitting) of our harvest expectations. Register today online or at the Farm Store or Markets, and renew your connection with the local farming community and its stewardship of the Dungeness Delta!